Dr. Ralph A. Martino, Sr. & Lady Vondrenna Martino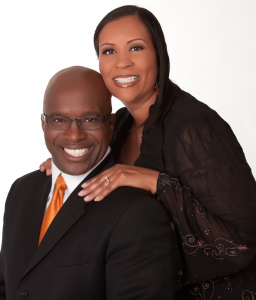 He is the Sr. Pastor of First Church, a multi-site, multi services church, who teaches the Word of GOD feverishly and passionately without compromise! Watch, follow, like and subscribe to view their teachings weekly. Powerful! Prophetic! Passionate!
She humbly serves as her husband's helpmate, Spirit-filled counselor and intercessor at First Church of Christ (Holiness) U.S.A. encouraging the women of God who are in spiritual and emotional distress!
He is Co-Founder of Watch and Pray Ministries, Inc., a 501(c) 3, whose vision is to reach the masses with a non-compromising, Christ-centered, Christ-focused end time message holistic in nature and purposeful in destiny. We care for, focus on challenging and are determined to assist at risk youth and adults change their attitudes and then their destinies through education, enlightenment and empowerment!
She is a graduate of Hampton University where she received her BA degree in Mass Communications and a minor in Journalism.  She achieved her Master's degree in Education Administration from the College of William and Mary in Williamsburg, Virginia!  She currently serves as an administrator/educator in Alexandria, Virginia!
He is blessed to be the Trademark Owner of "SLC" (Spiritual Life and Leadership Coach) and is a certified Spiritual Life, who counsels, mentors and helps NFL football players, Professional Basketball players, Business Executives and Stellar award winning artists achieve their dreams. Through one-on-one consultations, personal and professional deliverance and help has taken place in countless lives.
She is passionate about sharing God's Word in uniquely anointed mediums including teaching God's Word through dramatic presentations!
He is blessed to possess over 20 years of live, relevant radio broadcast experience, as an Executive Producer, Producer and Host of the "Psalm 91 Radio Broadcast," which reaches over 1 million listeners per week.
He has been featured many times on "Praise the LORD" TBN's Flagship program.
He is an inspired Author, an anointed Biblical Teacher, an industrious Entrepreneur, a soul-stirring Evangelist, a highly sought after Motivational Speaker, and a results-oriented Workshop Facilitator.
He is blessed to be the Best Selling Author of "Take Your Mouth Off Of My Destiny," "The Battlefield of the Emotions, Vol. 1," "How Do I Forget?", "How 2 Change a 'No' into a 'Yes'", "Exposing the Eight Deadly Steps in Every Temptation" and its companion Workbook, as well as "Twenty-One Principles for Conquering Temptation".
He has designed, developed and presented numerous workshops, some to include:
Anger Management
Binding the Strongman
Christian Business: "The Pathway to Freedom"
Communication: The Key to a Successful Marriage
Discerning the Voice of GOD
Flip the Script on Temptation
Fifteen Keys to Successfully Opening and Maintaining Godly Communication in our Lives
How to Handle Rejection
How to be Lead by the Spirit
How to Manage your Money
How to Handle Self-Rejection
How to Overcome Addictions
How to Overcome Bitterness
Living and Teaching the Truth
Obedience: "The Key to the Christian Walk"
Operating in the Favor of GOD-Prayer: To, For and Against
Prospering through the Fear of the Lord
Results-oriented Strategies for Intercessory Prayer
Sitting, Walking and Standing: "Mobilizing the Church for Ministry in the 21st Century"
Spiritual Perception: "Now you see it, Now you don't!"
The Confession of the Believer/Inner Man
The Components of the Blood
The People Principle
The Power of Prayer in a Marriage
The Salvation of the Soul
The Soul Winning Campaign
The Working Deacon
Walking in the Abundance of GOD: "Stay Away from the Forbidden Fruit"
When the Seeker becomes the Sought after!
When We apply the Blood
How to enter into worship GOD's way
He is blessed to hold a Doctorate of Theology, a Masters in Religious Education and a Bachelors in Business Administration.
She demonstrates a walk of excellence in all that she does – while never forgetting that it's never about her, but that it's all about God!  Her favorite scripture is "Behold, I give unto you power to tread on serpents and scorpions, and over all the power of the enemy: and nothing shall by any means hurt you." (Luke 10:19)
Together Pastor and Lady Martino are driven to connect the masses to Jesus Christ to strengthen marriages, encourage singles, and protect our youth; so communities can become family.
They are the parents of two blessed girls, and one anointed son!